from rediff.com
:
Speaking ahead of her departure to Athens to compete for the first time under the flag of her adopted home Slovenia, the 44-year-old said she was hoping to cause the world's top sprinters some problems.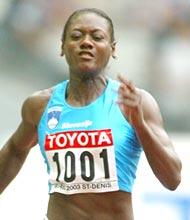 "I'm not going there because it's the seventh," Ottey told Reuters in an interview on Thursday. "I think I'll be happy if I go there and do well. I try to remain focused on what I would like to achieve.
"I'd like to get my times improved, and to see how far I can go. Hopefully, I can be pushing the favourites to their limits."
Since winning a bronze medal in the 200 on her Olympic debut in Moscow 24 years ago, Ottey has accumulated a haul of eight medals, three silvers and four further bronzes. The gold, though, still eludes her.
Ottey will be running in both sprint events in Athens and is optimistic of doing well after an injury-free year in which she has set best times of 11.09 seconds for the 100 and 23.06 seconds for the 200.
Qualification: First 3 in each heat (Q) and the next 4 fastest (q) advance to the 2
category:females in 2004 Olympics
p.s. more on Ottey and the myth of age from smh.com.au
:


Not the retiring type
Any athlete like Patrick Johnson who gets to the watershed age of 30 can look for inspiration to the Jamaican-born sprinter Merlene Ottey. She turns 43 tomorrow but is still talking about competing at next year's Olympics.
Ottey is one of a number of big-name sports people who in recent years have remained at the top of their sports long after they were supposed to have shuffled off into retirement